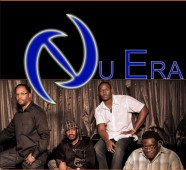 Lansing based band "Nu Era" is set to re-unite most of the original musicians of the group Too Smooth for Notes.   With a lot of positive feedback this summer and backing up Paula Atherthon, the Nu Era band members had a lot of fun at the 2015 Idlewild Festival.
"Having performed together for about seventeen years (1994 – 2012) in the Lansing area and Midwest, we are excited to have an opportunity on Sunday, October 25th to share our individual blend of music and what we've been doing" said one band member..
"We're inviting all of our friends who supported us on Thursday nights at 621 E. Michigan and at  other venues where we played around town, to come check us out at Studio C!  "
In addition to balancing careers, family, community and sports, Nu Era band members Sebastian Wood (keyboards); Joe Amerson (drums); Ervin Williams (guitar) and Arnold "AP" Pulliam (bass) regularly perform for audiences as independent artists and as a part of other bands.
Nu Era is starting work on a new album and Ervin has written a few songs for the group that they plan to release on a new CD project.
******
Proceeds from the LIVE music concert will benefit a local Youth Math & Music Workshop.
WHEN: Sunday, October 25th
DOORS OPEN:  5 pm
FOOD & BEVERAGE is available at Oscar's Bistro and may be taken into the theater.
Tickets are $25 per person and donations are accepted. Free parking is available for guests. For tickets call 517-372-7246, visit www.bmrwpromotions.tix.com or stop by Budget Print Center in East Lansing at 974 Trowbridge Road.
"Our goal is to make it fun, interesting and retainable" said BMRW Promotions spokesperson Charlie Wilson. "Not only is math and music education important but being able to interact with musicians while learning about the music is a great way experience."