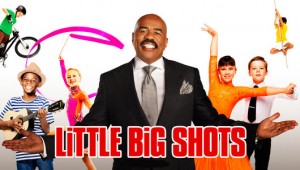 In 2016, Ellen DeGeneres ("The Ellen DeGeneres Show"), Steve Harvey ("The Steve Harvey Show"), Jeff Kleeman ("Ellen's Design Challenge"), Gerald Washington ("The Steve Harvey Show") are teaming up with NBC to celebrate and showcase kids ages of 2 and 12  with " a suprising talent or those who just make us laugh".
They stress that "Little Big Shots"  is NOT a competition show or game show.
Casting
You can sign-up your child using the registration window below. As the parent/guardian, enter your email address and select a password. Once registered, you are able to return to your profile at any time to update your information and receive messages from us.
The registration process contains three steps:
1) Basic Questions
2) Personal Questions
3) Photos and Video upload
You will be asked to upload a total of 2 videos – 1 video intro and 1 audition video that showcases your child's talent. Both videos MUST be uploaded for your submission to be complete and for your child to be considered for Little Big Shots.
For technical support please contact us at littlebigshotscasting@gmail.com.