UPCOMING EVENTS
FRIDAY NOVEMBER 23, 2018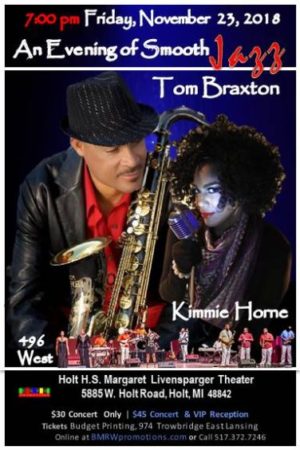 We would love to have you join us in November for a special Black Friday
edition at 7 pm on Friday November 23, 2018 with saxophonist Tom Braxton, international vocalist Kimmie Horn and Lansing's own 496 West. This music in the community event takes place at Holt High School, 5885 W. Holt Road in Holt.
Concert Tickets are $30 per person. Doors open at 6:30 pm for concert patrons.  All seats are reserved
VIP Package –  There are a limited number of VIP Packages with seats closest to the stage at $45.  The VIP package includes tadmission to the pre-concert reception znd complementary appetizers. Doors open for VIP reception at 6 PM
FRIDAY JULY 24, 2019
For 2019, we are working hard to create the best experience for our guests and to celebrate our 15th anniversary on the last Friday in July. We anticipate that the headlines will be the artists, the community and the volunteers who come together to make An Evening of Smooth Jazz something special. Watch for updates and the lineup at www.bmrwpromotionscom.
For more information:
Call 517-372-7246 E-mail:
info@bmrwpromotions.com
 GET TICKETS  **
Ticket PRICES  for November 23, 2018