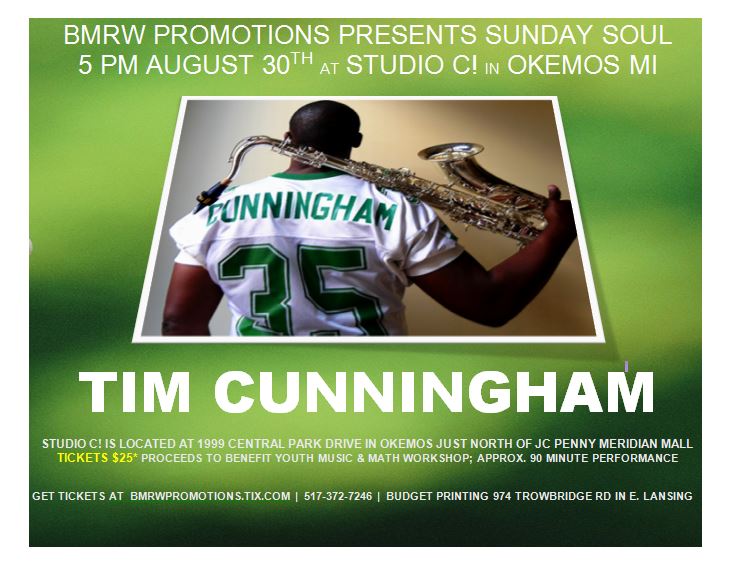 Smooth & sultry, cool, yet definitely funky. These words best describe the hot new sound of R&B saxophonist, Tim Cunningham.
Tim's high energy and emotional stage show as his sexy blend of smooth jazz and soulful R&B connects with people of all ages, races and genres of music. This unique and versatile style has earned Tim the pleasure of opening for such jazz greats as Dave Koz, Norman Brown, Chick Corea, The Yellow Jackets, Brian Culbertson, Winton Marsalis and George Benson. On the flip side, his bumpin' R&B flavor has on occasion paired him with Earth Wind & Fire, Cameo, Boys II Men, Patti Labelle, Frankie Beverly, Jeffrey Osborne, and the late Luther Vandross. Tim's experiences bridge beyond the live stage to TV as he co-wrote and performed the theme song to 20th Century Fox's "Bertice Berry Show" along with appearing in three episodes of "The Untouchables" and BET's "Jazz Central".
When Tim Cunningham was faced with the choice between the football field or the musical stage, lucky for us, he chose the latter. Having played the saxophone for over half his life, Tim spent his college years at Michigan State splitting his time between playing defense and playing music. And although a football scholarship saw him through school, his passion for the sax has carried him well beyond, as he passed up an NFL contract and eventually pursued a career in music.
Signed to Atlantic Records in 1996 his first major label release, "Right Turn Only" featured the efforts of Will Downing, Brian Culbertson, Kevin Whalum, and Bobby Lyle. It's featured single, "This is the Life," hit #19 on the Smooth Jazz Chart and received much international airplay. Tim's additional CD credits include "Sax Change Operation", "A Change in Altotude", "Waiting For Love", "Inner Peace", and "Manchester Road" which was picked up by Nite Breeze Music/Universal in 2008. His 2011 release entitled "Reflection", features a cool collection of original tracks packed with smooth grooves and emotional ballads. Tim's 2012 album,  "Tim Cunningham Live" covers some of his favorite songs.
In the summer of 2006, Tim performed at the Lansing Jazz Festival in front of an audience of 7,000 fans. This was undoubtedly one of Tim's greatest performances. Many fans said this was absolutely the best show they had ever seen.
Tim credits his mother and his strong Christian beliefs for keeping him grounded as he strikes that delicate balance between the world of music and that of family man with his 3 children and wife of 20 years, all whom he has written and named songs for on past CDs. Tim continues to wow audiences near and far with his explosive live stage performance, which typically will take him out into the depths of his audience, and yet he makes a point to stay after each show to sign every last CD sold. This approachable and down to earth quality is what endears Tim to his fan base…and his gift to touch their hearts with his music is what keeps 'em comin' back for more!
Source:  Reverbnation and Tim Cunningham Fan Club.