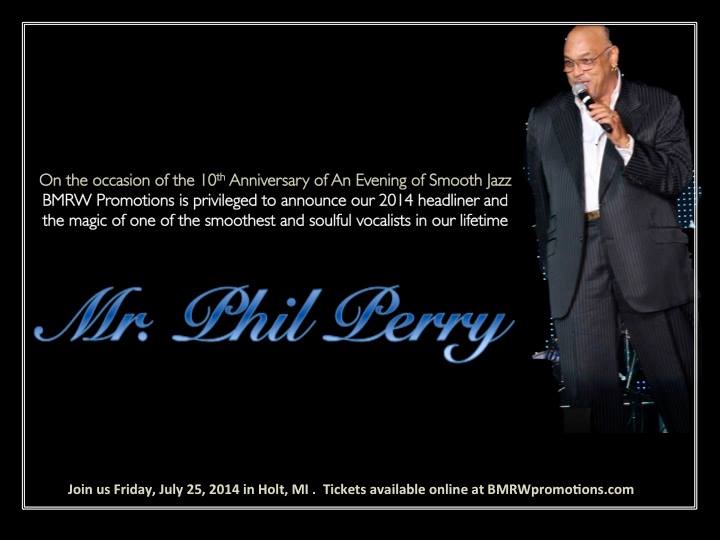 BMRW Promotions commemorates the 10th Anniversary of An Evening of Smooth Jazz with an exclamation mark!
One of the best soul and jazz vocalists in our lifetime,  Mr. Phil Perry will be our headliner for this special event.
As a touring artist and an in-demand session vocalist—his credits include work with everyone from Patti LaBelle, Anita Baker, Peabo Bryson and George Duke to Quincy Jones, Barbra Streisand, Boz Scaggs and Rod Stewart.  He is known to have put his own stamp on many love songs and others such as Lionel Richie's "Hello," Marvin Gaye's "I Want You,"  The Temptations' "Just My Imagination, Aretha Franklin's "Call Me," that hit #1 on the R&B charts" and  The Spinners' classic "Love Don't Love Nobody."
Phil Perry was born and raised in East St. Louis.  He was exposed to the art of great singing early in life and has been devoted to music from a young age. "Growing up I always knew that I wanted to be a singer," recalls Phil. "I would watch and listen to all the great singers like Nat "King" Cole, Johnny Hartman, Arthur Prysock and Billy Eckstine that my mother listened to while she cleaned the house."
Known for his skill in multiple musical genres, Phil began achieving success in the contemporary jazz arena through his featured vocals on albums by Lee Ritenour, The Rippingtons and others.  He was featured on a new release by Najee.