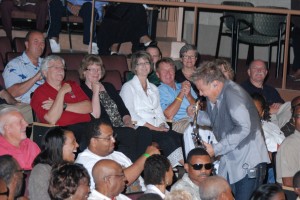 Euge Groove delighted the audience with an energetic performance at the Holt Performing Arts Complex on Friday evening, July 30, 2010 in the Margaret Livensparger Theater.
Expectations were high coming in; Groove exceeded them.  Led by the show's MC, Euge Groove was welcomed to the stage with the loud roar in response to the chant "when I say Euge" you say "Groove".
He opened with "Get Ready" and continued with a strong performance featuring songs from his repertoire like "Born to Groove", Slam Dunk", "Chillaxin", "Imagination", "Livin' Large" and the title song from his latest CD, "Sunday Morning". And listening to comments from smooth jazz aficionados, it was a night to remember.
Sprinkled in the conversation with the audience, Euge Groove said he was glad to be in Holt, MI.   At one point the show he circled through the auditorium with his sax and the show took off to an even higher of energy in what looked like a major party as Grove lifted the crowd from their seats with an opportunity to win a prize of a free CD to "get up and shake your booty".
The 7:30 PM concert opened with very strong performances by the Al McKenzie Trio with songstress Penny Wells and local Lansing favorite's 496-West.  The array of instruments — bass, guitar (lead and rhythm), saxophone, trumpet, trombone, piano, drums —acted like cheerleaders for the night.  Between the two opening performances, the smooth jazz sounds shifted between up-tempo songs like "Elephant on Ice", "Lovely Day", "Running Away" and classics like "Summertime" and "Smile".
In all, the 700-plus who attended this show, seemed content with the impressive surroundings, the acoustics and the three and a half hours of instrumentals and songs.  It one of those shows — certainly memorable for the audience, and a first of many expected at the Margaret Livensparger Theater.
When the crowd gave Euge Groove that one last big ovation they filed out into the commons area for autographs and photos.
In the end, one concert attendee from Lansing described his experience as "I feel rejuvenated".
An Evening of Smooth Jazz was sponsored by BMRW Promotions,Smooth Jazz 92.9 WJZL and Dean Trailways.
Photo Credit:  Michael Jennings