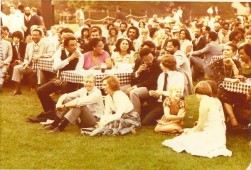 NOTES:  Dyana Williams's photo and picture from 1979 celebration at The White House Photo Credit: Courtesy of Dyana Williams
Kenny Gamble Photo: Courtesy of Philadelphia International Records
Intermingled with Gemini birthdays, Father's Day, Juneteenth, the latest MIB (Men in Black) movie and the start of summer, lays the annual observance of Black Music Month (BMM).  If you weren't aware that President Jimmy Carter declared a month-long time to observe black music on June 7, 1979, you might think BMM is new or perhaps wonder if there needs to be a time for special recognition of musicians, composers, singers, songwriters and perpetual music genres like gospel, pop, rhythm and blues, jazz, be-bop, disco, rap, funk, hip-hop, reggae or neo-soul.
The idea for the celebration was pushed in 1978 by Kenny Gamble, songwriter/producer and co-founder of Philadelphia International Records along with Ed Wright, a broadcast executive from Cincinnati, Ohio.  They lobbied for a special way to celebrate and promote the cultural and financial contributions of black music.  Although then President Carter hosted a large reception on the White House lawn with notables such as  Chuck Berry and Andre Crouch, there was a 'blip" according to Dyana Williams,  the woman recognized as "The Mother of Black Music Month" 
Some years after she attended the 1979 reception, Williams wrote President Bill Clinton asking him to host a Black Music Month event during June.  To her surprise, she was informed by The White House that although President Carter declared June Black Music Month, he did not sign a presidential proclamation. This prompted Williams to lobby Senators and Congress people for official legislation recognizing June as Black music month. Using her International Association of African American Music Foundation (IAAAM Foundation), radio and TV platforms she was able to get support. Congressman Chaka Fattah of Philadelphia introduced the African American Music Bill that Williams co-authored to the House of Representatives and it was adopted as House Resolution 509 in 2000.
Since President Carter's declaration, every president –Ronald Regan, George H. W. Bush, Bill Clinton, George W. Bush and Barack Obama—have made announcements about observing June as Black Music Month with a slightly different name by President Obama –African American Music Appreciation Month.  In the 33 years that the Oval Office encouraged "all Americans to learn more about the history of black music and to enjoy the great contributions of African-American singers, musicians, and composers" the landscape of how we hear music and what we hear has also changed.
A lot has certainly changed in 33 years –the Telecommunications Act of 1996 allowed many stations to be consolidate ownership, computers, home studios, less local on-air personalities, BET, more syndicated formats, Internet radio, Soul Train, portable MP3 players, subscription radio, cell phones, video, artists sell and promote their own music, music programs in schools, DJs, YouTube, remixes, Facebook—but an appropriate question among all of the history is, what will you do to learn more about and support African American Music in the next 33 years?
Here are some suggestions:
Live Music
June 16 (Lansing) The 2012 Lansing Juneteenth Celebration. Special Music, Gospel, R&B, Blues & Jazz Musical Headliners include – Orrick Ewing, Downbeat Groove Band and Eddie Robinson.  St Joseph Park. www.lansingjuneteenthcelebration.org  517- 394-6900
June 16  (Detroit) The Charles H. Wright Museum of African American History  Juneteenth Summer Soul Concert  315 East Warren Ave. Detroit, MI  313-494-5820
June 22 (Lansing) Local band 496 West presents a live music showcase featuring "Sax on Sax" at 621 E. Michigan Avenue.  http://www.496West.com
In June (major cities) Apple is celebrating BMM with a series of live shows at Apple retail stores in some of the larger cities.    
Cable networks like TV One, Cirrus, Centric and BET will air music specials. 
June 7 (VH1) Rock Doc Yo: The Story of YO! MTV Raps
June 9 (TV One) A new episode of the documentary series Life After featuring former Motown and Uptown Records executive Andre Harrell.
June 9 (TV One) Chaka Khan Live in Malibu 
June 15 (Cirrus Ch 128) Rebirth of Cool: The History of The Howard Theatre.  Before the Apollo Theatre, there was The Howard Theatre was the only place where African Americans could go to hear the biggest names in music and comedy.
June 16 (Cirrus Ch 49) Artist Confidential with Smokey Robinson
June 16 (TV One) One Night Only 2011: Live From the Essence Music Festival
June 21 (VH1) A new countdown special, The 40 Greatest R&B Songs of the 90's
June 23 (Centric) Don Cornelius: Visionary, Trailblazer & Cultural Icon, an original documentary that celebrates the life and legacy of the iconic Soul Train creator.
June 25 (TV One) Unsung will profile 60's and 70's funk group Sly and the Family Stone in a special June 25 episode.
In June (Centric) Hip Hop Cultural Odyssey: Know Your History, which takes a look at the history of the popular music genre through in-depth interviews, images and the music that defined a generation.
In June (Centric) New episodes the documentary series Being featuring such stars as Earth, Wind & Fire, Gladys Knight, Teena Marie, R. Kelly and Mary J. Blige.