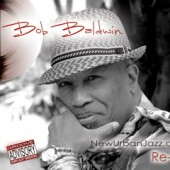 It's Official.  The latest  Bob Baldwin CD, NUJ.com 2/Re-Vibe  is released today.
Baldwin makes a stop in Mid Michigan later this month for the annual summer concert series, An Evening of Smooth Jazz. The Friday, July 29, 2011 event is presented by BMRW Promotions and takes place at the Margaret Livensparger Theater – Holt Performing Arts  Complex located at 5885 W. Holt Road, Holt, MI 48842
Tickets and info at
www.bmrwpromotions.com or 517-372-7246
Here is a sample of what is being said about the latest CD:
…his finest work to date and the early buzz on the streets indicates hat this New UrbanJazz.com 2/Re-Vibe will re-invigorate not only his massive following but continue to build upon it.
– Smooth  Jazz Daily
There are literally no surprises in a disc that tells you what to expect the second you hit play. If "New Urban Jazz" is your thing then this is a must. My feeling is that the cross over potential on this release is huge!"
 – Digital Jazz News –
… NewUrbanJazz.com 2 (Re-Vibe) is an incredible follow-up to his previous CD, and contains an outstanding collection of smooth contemporary grooves. Featured guest performers include Freddie V., Darren Rahn, Joey Sommerville, Glenn Jones, and Bo Valentine. On this 14 track compilation, Bob delivers a splendid balance between the funky and the mellow.
 ~Sunshine Brown / WDAS-FM / "Quiet Storm/Groovin' On A Sunday Afternoon" Producer