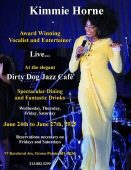 You can catch Kimmie Horne at  An Evening of Smooth Jazz in Holt, MI on July 29, 2016.
From: MI, United States
Genre:
Jazz, Contemporary Jazz, R&B
Ladies and Gentlemen…Introducing
Ms. Kimmie Horne!
Cousin of the legendary songstress and Movie icon Lena Horne… endowed with a voice which recalls great ladies of jazz, blues and R&B, Kimmie Horne has the lucid phrasing of Dinah Washington; the passion of Sarah Vaughn; and the smoky sophistication of Phyllis Hyman. She is both an outstanding vocalist and enchanting performer who take's audiences on journeys from jazz to pop to R&B.
Detroit is and has been fertile ground for developing world-renown musicians and recording artists from nearly every genre including America's original art form – jazz. Betty Carter, Earl Klugh, Anita Baker, and more recently, Kem all cut their teeth here before achieving international acclaim. Native Detroiter Kimmie Horne is a product of this rich music heritage and has the total package.
She has a gift for songwriting and arrangement rooted in her DNA. Her uncle was the late great singer and songwriter Cleveland Horne of The Fantastic Four, famous for their 1970's-era hit "I Got to Have Your Love." Both Horne's father and brother are also multitalented musicians.
Throughout her career, Kimmie's talents have elevated her to headliner status at the the Epicure Festival in Ontario and at elegant clubs in Chicago, Las Vegas, Atlantic City, San Francisco, Toronto, Jamaica, London, Tokyo, Kyoto and Osaka. She's been a featured performer at top-name artist festivals such as the Legends of Jazz in Jamaica and shared the stage with talents as diverse as Ahmad Jamaal, Pieces of a Dream, Angela Bofil, Stanley Clarke, Keiko Matsui, The Neville Brothers, The O'jays, Teddy Pendergrass ,Isaac Hayes and the All Female Jazz Ensemble Straight Ahead.
Kimmie frequently performs at the world famous Bellagio Casino and Resort in Las Vegas Nevada. She has performed for heads of states and invited to Hawaii to do a 3-hour command performance. Kimmie recently celebrated her 15th Annual Japanese Cherry Blossom tour and has generated a considerable following both at home and in Japan.
Kimmie has established longevity with "The Kimmie Horne show" which includes her five accomplished musicians and three background singers. She has transformed, non-traditional jazz songs into a fresh new and respectable jazz repertoire. In each increasingly vibrant show, Horne leads her band through the trademarks of great vocal jazz phrasing and vocal improvisation.
She was awarded Best Female Jazz Artist for the 1st Annual Detroit Music Awards.
Horne's considerable talents are evident on her aptly titled "High Standards" CD. Her voice and arrangements have given a brand new swing to standards such as "Lullaby of Birdland," "So Nice to Come Home To," and "Summertime".
Her latest CD "Loving this Jazz" peeks as her all time favorite with the Kyoto Japanese Orchestra.
Source: http://www.jango.com/music/Kimmie+Horne/_full_bio