496 West released the cover song Georgy Porgy in 2014 on their second CD project, Auxiliary Lane.
Luther Vandross was featured on the commercial release of Georgy Porgy by US soul band Charme in 1979.
According to Misha Segal who  gave Deborah J. McDuffie the artistic freedom to as a vocal arranger/producer for the recording by Charme….
"The vocals for the song were recorded in NYC at RCA Studios Studio A. It was a huge room where the Philharmonic Symphony used to record. Since Luther was already signed to Epic Records, his name could not be released as the featured soloist."  The recording was rereleased a few years later with Luther listed on vocals.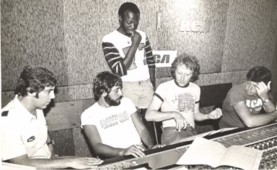 A picture from the studio session at the RCA studio in Rio De Janeiro where the track was recorded is on youtube with Luther Vandross on vocals.   According to Misha Segal, "the guy standing was the drummer I brought from NYC to do the project, I don't remember his name. The guy on the left was the executive from RCA records. Next to him was Alfie, my interpreter, then there is me and the last guy on the right was Joaquin J. Lopes the engineer. The group Toto wrote the tune". 
More Georgy Porgy Recordings:
1978 – Toto  released the song with lead vocals by guitarist Steve Lukather and female voclas from Cheryl Lynn.
1980 – US disco/jazz-funk band Side Effect released their version in 1980 on their "After The Rain" album. It made it to 77 in the US R&B charts.
1991  – MC Lyte used the song as the musical foundation of "Poor Georgie", from her 1991 album Act Like You Know.
1996 – Igcognito
1999 – Eric Benét (with Faith Evans on background vocals) released the song as the first single from Benét's album A Day in the Life in 1999. The cover version reached number two in New Zealand.
2002 –  Japanese musician Ringo Sheena formed the band Yokoshima (邪) solely to play cover of Georgy Porgy in 2002.
1994 – Guitarist Nils offered a rendition of Georgy Porgy from his 'Pacific Coast Highway' album and sampled on the remix of Joe's "All Or Nothing" single from his 1994 album of the same name called the Georgy Porgy remix.
2007 – Guru used the song in Jazzmatazz, Vol. 4: The Hip Hop Jazz Messenger: Back to the Future
2009 – Japanese artist DJ Deckstream offered a rearranged instrumental rendition was also done by on his Music Castle album in 2009.
2014 – Lansing, MI based band 496 West released the song on their Auxiliary Lane CD in 2014
*******
Deborah J. McDuffie is a pioneer producer, composer and vocalist.  She is credited with being the first female jingle composer and producer in the industry and one of the first women to sign a production deal with a major record label. In 1996, she relocated to Jacksonville, Florida to pursue a lifelong dream of teaching music to young folks.
McDuffie has worked with Luther Vandross, Patti Labelle, Janet Jackson, Ashford & Simpson, Roberta Flack, Wynton Marsalis, Temptations, Gladys Knight & Pips, 4 Tops, Spinners, Al Green, Sylistics, Charlie Wilson, Jose Feliciano, Tito Puente, Bobby Caldwell, Michael Bolton and the list goes on
Source:
https://en.wikipedia.org/wiki/Georgy_Porgy_(song)
http://www.mizmcdmusic.com/biography