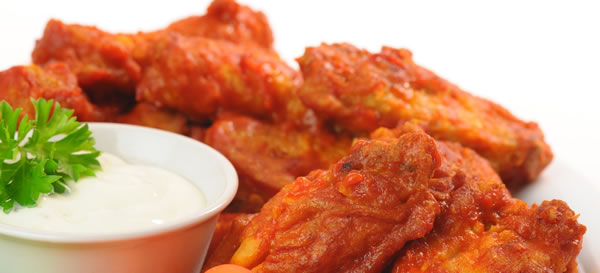 Organizers of a new festival in mid-Michigan have announced its debut.  The Michigan Chicken Wing Festival  comes to Lansing's Adado Riverfront Park on Saturday, September 5 th.
The park is  located at 300 N. Grand Ave., Lansing, MI – directly across from Lansing Community College in downtown Lansing – between Grand Avenue and Shiawassee Street, Lansing, MI 48933
Saturday, Sept. 5  from 12:00 p.m. – 10:00 p.m.
Tickets:  Free admission
Phone: 5177497001Fax: 5173662566

Bring your own lawn chair

There will be
a wing eating & tasting contest.
V.I.P. Beer & Wine Tent
Kids Zone with activities
A variety of bands – Pop, Soft Rock, Blue, R&b, Gospel, Hip-Hop & Jazz.
Free admission for general seating but,  there is a V.I.P. Tent  with limited seating at a cost of $10.
****
Chicken Wing Festivals have been in existing for 26 years  in the world and through out the States, with one of the most notable ones being in Buffalo New York with inception in 2002 with an attendance of 40,000 and non-profits in their area has received in access of $200,000  and serving over 3 million chicken wings
KIDS ZONE – STAGE
Saturday/ Sept. 5th
Show Times: 12:00 – 4:00 p.m.
Lansing Fire Department – Big Truck
Face Painting
Photos
Inflatables
IDream Dance Studio
Sunday/Sept. 6th
Show Times: 12:00 – 4:00 p.m.
Lansing Fire Department – Big Truck
Face Painting
Photos
Inflatables
Tuffy the Turtle
MAIN EVENT STAGE
Saturday/Sept. 5th
Show Time : 6:00 – 9:45 p.m.
Dee Hibbert & Company
DJ ENYCE
Ceo Carter
Moe B
DJ ENYCE
Full House Band
Down Maggie
Dan MacLachlan
Sunday/Sept. 6th 
Show Time: 5:00 – 9:15 p.m.
AnnaMaria Horn
Charles Anthony
Denise Davis & Motor City Sensation
Daren Horn
Julie Haven
Twyla Birdsong
Angela Davis & 313 Band