With beginnings in Detroit, The Temptations have blazed on stage and delighted fans all around the world for more than 50 years.  Earlier this year, they added a new step to their classic lineup–soulful vocalist Larry Braggs.
You should remember Larry Braggs from his jaw dropping performance at An Evening of Smooth Jazz in February 2015.  It was one of the coldest days of the year with blowing show but inside the theater the stage sizzled.
You can catch Larry Braggs in Michigan –with the Temptations on Friday, April 22, 2016 at Adianomos in Warren and at in Mt Pleasant on Saturday, April 23rd at Soaring Eagle.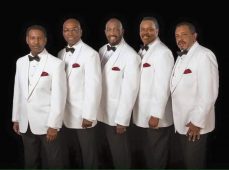 Michigan Event Date and Tickets: