It's Festival Time and we've got group tickets for a great two day jazz festival….Saturday August 23, 2014 and Sunday, August 24, 2014!!
We are excited to invite you to join our group as we hit the road to attend the Alexander Zonjic's Shoreline Jazz Festival at Heritage Landing in Muskegon, MI.
At our July 25th Phil Perry show, we'll have a Limited Number  of Tickets available for the Shoreline Jazz Festival.  We have Preferred Seat ONLY! 
 Once they are gone, that's it!!!
Preferred seating is $50 per day ($100 for both days).
Seats are closest to the Stage – No need to bring chairs,  they're provided.
Receive 1 Preferred Seating admission ticket for Saturday, August 23 and 1 preferred ticket for Sunday, August 24
Contact Us Now!   Call 517.372.7246 or  Email info@BMRWpromotions.com
We expect tickets to go fast. Respond as soon as you can, and please note that all tickets will be mailed or available for pickup at An Evening of Smooth Jazz in Holt, MI on Friday, July 25th.
Alexander Zonjic's Shoreline Jazz Festival
Join jazz greats Boney James and Kenny G, along with festival organizer and flutist Alexander Zonjic at the beautiful setting of Muskegon County's Heritage Landing for the inaugural Alexander Zonjic's Shoreline Jazz Festival, August 23 & 24, 2014.
The Lineup for the 2014 Shoreline Jazz Festival 
SATURDAY, AUGUST 23, 2014                                                                              
1:00 pm   Lin Roundtree
2:30 pm   Urban Jazz Coalition
4:00 pm   Tim Bowman
5:45 pm   Maysa, Nick Colionne and Brian Simpson
7:30 pm   Boney James
SUNDAY, AUGUST 24, 2014
1:00 pm   Phil Denny & Oil Silk
2:30 pm   Michael Manson
4:00 pm   Jeff Lorber Fusion w/ Eric Marienthal & Jimmy Haslip
5:45 pm    Lalah Hathaway & Ruben Studdard
7:30 pm   Alexander Zonjic w/ very special guest Kenny G
 More info available at  www.zonjic.com .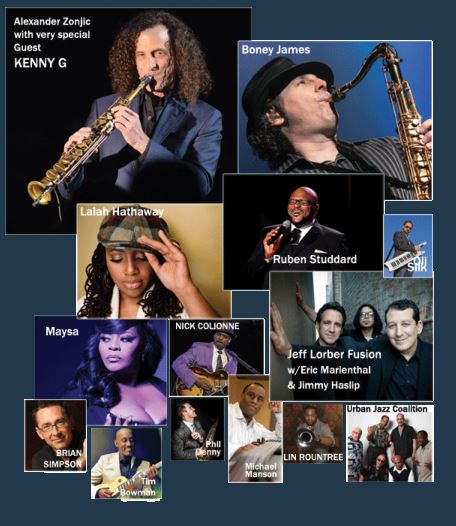 Heritage Landing (source:  http://www.co.muskegon.mi.us/heritage.htm)
Address
Western Avenue
Muskegon, MI 49440
Not only does Muskegon County enjoy some of the least developed Lake Michigan coastline, the County also contains three large lakes: Mona Lake in the south, White Lake to the north, and Muskegon Lake in the middle. For most of the history of Muskegon, the shorelines of these lakes, Muskegon Lake in particular, were the center of lumbering and industrial activities responsible for Muskegon's development and prosperity.
In recent years, Muskegon has started to reclaim the lake front for recreational uses. New housing and condominium developments, as well as marinas, have been built along the lakes.   Most impressive of all, the County of Muskegon has converted an abandoned brown field into Heritage Landing.
During the summer, Heritage Landing provides the venue for the Coast West Music Festival, theUnity Christian Music Festival, and the Michigan Irish Musical Festival. With carnival rides, music from popular musical performers, and fireworks displays, Heritage Landing brings excitement to the Muskegon Lake waterfront.