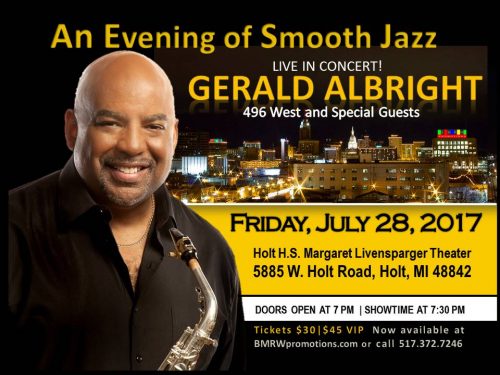 Born in Los Angeles, Albright grew up in its South Central neighborhood. He began piano lessons at an early age, even though he professed no great interest in the instrument. His love of music picked up considerably when he was given a saxophone that belonged to his piano teacher. It was further reinforced when he attended Locke High School , a breeding ground for many young West Coast musicians. After high school, he attended the University of Redlands where he received a B.S. degree in business management, minoring in music. Already a polished saxophonist by the time he enrolled in college, Albright suddenly switched to bass guitar after he saw Louis Johnson in concert.
Immediately after college, Albright began to master his talent by working extensively in the studio with such artists as Anita Baker, Ray Parker, Jr., The Temptations and Olivia Newton-John. A few months after graduating from college, Gerald joined Patrice Rushen, who was in the process of forming her own band, in which he played the saxophone. Later, when the bass player left in the middle of a tour, Albright replaced him and finished the tour on bass guitar. Consequently, he often performed on both instruments. Around the same time, he also began to tour Europe with drummer Alphonse Mouzon.
He has also toured with Jeff Lorber, Teena Marie, Quincy Jones, Whitney Houston, Phil Collins, Johnny Hallyday, Anita Baker and many others. In addition to numerous appearances at clubs and jazz festivals, Albright had also been a part of the popular Jazz Explosion tours, which saw him teaming up with contemporary jazz stars like Will Downing, Jonathan Butler, Hugh Masekela, Chaka Khan and Rachelle Ferrell, among others.
Albright has also made several television appearances on shows such as A Different World, Melrose Place and BET jazz segments, as well as piloting a show in Las Vegas with Designing Women star Meshach Taylor.
Albright was one of the ten featured saxophonists who performed at Bill Clinton's inauguration. He was also featured at the Presidential Summit, as well as several private functions for the President.
Albright is a member of Alpha Phi Alpha fraternity. Albright now lives with his family near Denver, Colorado.