Soon the calendar will be filled with events and things to do, so make sure to add An Evening of Smooth Jazz on Friday, July 29th to your must-see list for 2016. With an exciting line-up of musicians and artists with connections to Michigan, it is slated to a truly unforgettable evening.
VIP patrons arrive early to relax and savor the pre-concert appetizers before settling into the theater for an evening of stellar live professional music.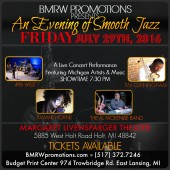 ***********************
Tickets for An Evening of Smooth Jazz featuring Tim Cunningham, The Al McKenzie Band, Kimmie Horne and 496 West, presented by BMRW Promotions, will go on sale on Tuesday, March 1st, 2016.
NEXT SHOW:
7:30 PM Friday, July 29, 2016
Tickets to most of our events are available by calling
517-372-7246 
or visiting the link below. You can also pick up tickets locally in the Lansing, MI area at Budget Printing 9during normal business hours. The Box Office at the venue opens 1 hour before showtime for ticket purchase providing that seats are still available.
Please read the following information to get ticket information for An Evening of Smooth Jazz
$30 for Individual Reserved Seating
$45 for VIP Platinum Package (includes pre-concert reception with complimentary appetizers with seating closest to the stage)
Event Location:  The Holt High School Performing Arts Complex-Margaret Livensparger Theater, 5885 West Holt Road, Holt, MI 48842
There are 4 different ways to purchase tickets:
ONLINE – Buy Online  24 hours a day
BY TELEPHONE –  Call 517-372-7246
COMING MARCH 10th – You'll be able to pick up tickets IN PERSON at BUDGET PRINT CENTER in East Lansing (Address:  974 Trowbridge Road)   Budget Printing is located in the shopping plaza between Harrison Road and Wendy's)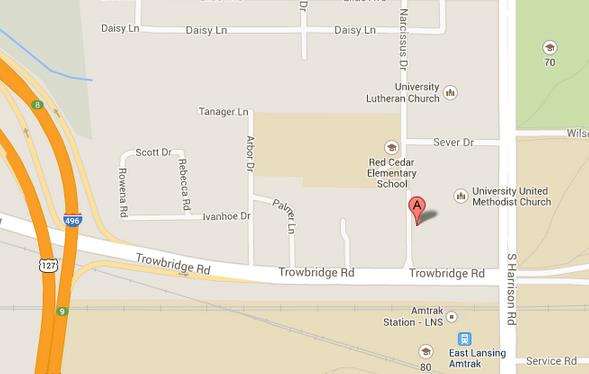 AT THE BOX OFFICE* –  If tickets are available on the day of the show, the BMRW Box Office inside the venue will open ~1 hour before the show on concert nights ONLY.  Buy tickets when you get to the venue.
Tickets  are Available!
Click button    

Location: Margaret Livensparget Theater – Holt HS Performing Arts Complex, 5885 W. Holt Road, Holt, Michigan 48842
Showtime: 7:30 PM.
Doors will open at 7:00 pm for individual ticket holders.   Doors will open 1/2 hour earlier for Platinum VIP patrons (6:30 pm for Platinum VIP patrons).
PLEASE KEEP YOUR TICKETS IN A SAFE LOCATION WE CANNOT NOT REPLACE, REFUND OR EXCHANGE TICKETS.
Website: www.BMRWpromotions.com E-Mail: info@BMRWpromotions.com
Phone # for info: (517) 372-7246
More Information
Ticket sales are available online by clicking the button
Unless otherwise noted, we have a 10-ticket limit for purchasing tickets over the phone or online purchases.
For Accessible Seating: please contact us at 517-372-7246
VIP Experience and reservations please purchase tickets early. These sell out first!  PLEASE NOTE: VIP includes access to VIP lounge, complementary appetizers and seating in the first 7 rows of the theater.
All Ticket Sales are FINAL; No exchanges or refunds.
Also, our annual summer An Evening of Smooth Jazz series continues.  Please save the date and join u on Friday, July 29, 2016 for the 12th Anniversary show.  The event will be held in Holt at the Holt High School, Margaret Livensparger Theater on the last Friday in July.
Credit Cards  
Visa, MasterCard and American Express are ACCEPTED ONLINE at our online tix outlet
Day of the Event
The Box Office will be located inside the venue lobby; signs will be posted directing you where to go.
Will Call: Tickets may be picked up starting 2 hours prior to event start time. Only the cardholder with valid photo I.D. can pick up tickets.
CASH is accepted at the box office on the day of the event.
BMRW Promotions is proud to present, expose and educate our ever-growing audiences to international, mational, regional and local jazz artists.
If you would like to purchase tickets
(Click button to buy ticket online) or,
Purchase locally in East Lansing at Budget Printing Center, 974 Trowbridge Road, East Lansing (Budget Printing is located between the Shop Rite and Wendy's) or,
Call 517-372-7246
Ticket Price $30 for Reserved Seating;  $45 for VIP Packages (includes pre-concert reception)