First Ever Fall Concert for An Evening of Smooth Jazz
BMRW Promotions is pleased to announce the fall line-up for its "An Evening of Smooth Jazz" concert series which will take place on November 26, 2010 at the Holt Performing Arts Complex Margaret Livensparger Theater in Holt, MI, USA.
Smooth Jazz guitarist Tim Bowman.  Bowman has a new CD re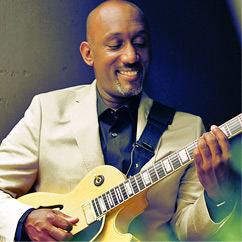 lease that highlights his talents in a "Collection'.  The new self-titled project is Bowman's first for Trippin' N Rhythm.  It is "full of the cool and funky hooks that have defined his personal jazz style over the last decade and kept him at the top of the charts". When he was asked about his latest project Bowman says, "I feel good about this one. It's the feeling I get every time I know I've had fun making an album".
The opening performances will include Grammy-nominated bassist,  Orrick Ewing  with his band and Lansing 's own 496 West
Tickets are scheduled to go on sale on Wednesday; October 6 at 8 pm at bmrwpromotions.com.   Ticket information is also available at  wjzlonline.com.
For location to purchase tickets locally, call 517-372-7246.
BMRW Adds Fall Concert to 2010 AEOSJ Series
Just announced!
Plans are shaping up for a second concert in the An Evening of Smooth Jazz series on Friday, November 26, 2010.  Tickets and additional concert information will be announced.   The concert will be held at the Holt Performing Arts Complex-Maragaret Livensparger Theater in Holt, MI.
A limited number of Pre-Concert VIP Packages with seating within the first five rows, admission to the private hospitality suite with complementary hors d'oeuvres and an opportunity to meet and greet other enthusiasts and special guests will be available.  The Platinum Package is in response to patrons wanting to grab a quick bite to eat before the concert.
Margaret Livensparger Theater Seating Chart
Google Map it   (Margaret Livensparger Theater, 5885 W. Holt Road, Holt, MI 48842)
Visit our ticketing Internet site to purchase tickets.