For those who attended the 10th Anniversary of An Evening of Smooth Jazz, here is the information as promised about the special tickets we have.
NOTE:  We only have info about preferred seating tickets.   t.   We have a limited number of tickets for preferred seating .  We're offering a $10  discount off the preferred seating ticket price of $50 with your ticket from An Evening of Smooth Jazz  (Row # & Seat) .
This does not include the General Admission tickets which are $25.
1.  By 11:59pm Monday (the 28th), send e-mail to info@bmrwpromotions.com
Your  e-mail address
A contact phone number
Indicate # of tickets requested for Saturday, August 23rd
Indicate # tickets requested for Sunday, August 24th
Include your ticket #from An Evening of Smooth Jazz  (Row & Seat) from
Specify Payment Method (Mail check / Have BMRW contact you for credit card or CASH)
2. If sending check, your payment must be received on or before 5 PM August 1st.  
BMRW Promotions
503 Mall Court -Suite 253
Lansing, MI 48913
3. If you indicate CASH or Credit Card a BMRW Representative will contact you before 5 PM August 1st. 
NO PHONE CALLS PLEASE!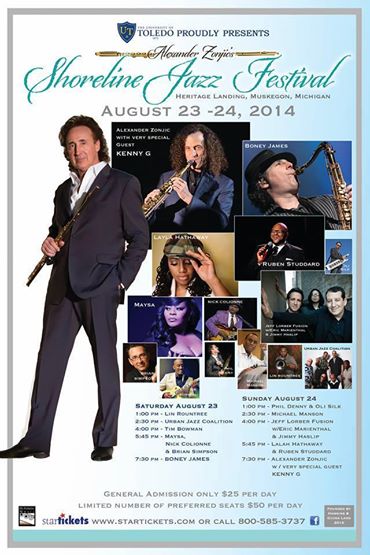 Don't miss Alexander Zonjic's  Shoreline Jazz Festival, presented by the University of Toledo. Two great days of music on Lake Michigan at Heritage Landing in Muskegon, Michigan, Saturday, August 23, 2014 and Sunday, August 24, 2014!Check the
Schedule for the Line-up and show times. The festival will be featuring performances by internationally known flutist Alexander Zonjic with his very special guest, the top selling instrumentalist, saxophonist Kenny G. The R&B flavored playing of saxman Boney James will also be a highlight. Singers Lalah Hathaway and Ruben Studdard will perform. The legendary Jeff Lorber Fusion with guests Eric Marienthal and Jimmy Haslip. Also performing: Singer Maysa with guitarist Nick Colionne, and keyboardist Brian Simpson; guitarist Tim Bowman; saxman Phil Denny and keyboardist Oli Silk; bassist Michael Manson; trumpeter Lin Rountree; and the group Urban Jazz Coalition.Tickets are on sale now online and by phone. Ticket information here.
Need directions? Visit the Map page.
Find out what's allowed and not allowed to be brought inby visiting our Rules and Regulations page.
There is no official host Hotel this year. Rooms are disappearing fast . You get in touch with the  Muskegon County Convention and Visitors Bureau at     visitmuskegon.org or call 800-250-9283.  They will be able to direct you to all regional hotels.