Community leaders, families, business professionals, residents and friends are asked to join us in honoring the reigning 2015 Miss Black Michigan USA, Ashley Jones at a special pre-concert reception to be held on Friday, July 31st at Holt High School, 5885 W. Holt Road, Holt MI 48842.   In addition, congratulatory messages can be submitted for the souvenir keepsake concert program booklet. The link for Ashley's Jazz Reception congratulatory Ad Form is available here and at the bottom of this page.
The evening begins with the official reception at 6 pm followed by a fantastic concert at 7:30 pm with the all-female ensemble "Jazz in Pink!" and Lansing's 496 West.
In less than THREE weeks Ashley will complete her year of service as th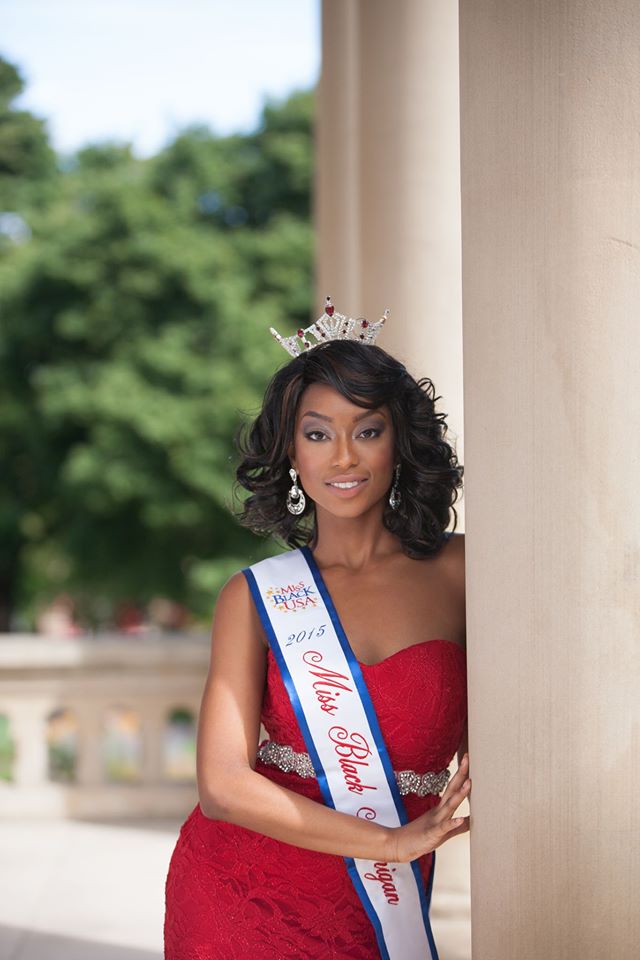 e 2015 Miss Black Michigan and almost like a fairy tale, at midnight [July 31st], things will change.   Ashley will officially begin her pursuit of an opportunity of a life-time to many aspiring girls and young women by representing Michigan in a notional pageant.
The National Miss Black USA Scholarship Pageant emphasizes values, intellectual and academic achievement, social/civil involvement and hard work. The pageant offers scholarships and a civic platform to promote awareness of health and education, two leading social issues in the African American community.  The pageant aims to bring out the best qualities such as talent, public speaking skills, and commitment to public service, discipline and drive.  Pageant participants and winners work to empower and inspire young women and girls across the globe.
This East Lansing H. S. alum has had a very productive and busy year.  In addition to graduating in the Spring from Michigan State University with honors, Ashley has dedicated her reign to work with children, teens, and families and supporting many outreach initiatives in her surrounding communities.
Highlights and activities from her year of service as Miss Black Michigan include:
Partnering as a celebrity team leader in "Lansing Looses a Million" – a healthy lifestyle challenge initiative with Lettuce Live Well [a local non-profit], Lansing Mayor – Virg Bernero and the greater Lansing  community
Sharing her personal platform: "You're Worth It! A Conversation on Confidence and Self-Esteem"
Speaker and Mentor for the Next Young Phenom Foundation's STEAM Camp
2nd Annual "Hoop For Hope"; a Charity/Celebrity Basketball Game to raise funds for families in need
Pageant representative – Southeast MI  American Heart Association Go Red for Women Kick-Off Event
Celebrity Model – 32nd African World Festival Detroit at the Charles H. Wright Museum of African American History – Detroit Rocks the Runway
5th Annual Live Out Loud Charity Fashion Show Fundraiser for Suicide Prevention and Awareness (Chicago)
Keynote Speaker – "Evening of Rising Young Stars" red carpet awards – Youth Empowerment Solutions (Saginaw)
Judge for the Lansing Polar Plunge which raised $52k for Michigan Special Olympics
Celebrity Model for the Ultimate Style Expo fundraiser. Proceeds benefited Alternatives for Girls; a non-profit that helps homeless & high-risk girls/women to make better life choices through mentoring, resources (Detroit)
Pageant representative and model at the 5th Annual Live Out Loud Charity Fashion Show Fundraiser for Suicide Prevention and Awareness (Chicago, IL)
MSUFCU Relay for Life Team Member that raised over $6500 for the American Cancer Society
Ashley will close out a year of representing the state of Michigan on July 31st.
Please join in to make Ashley's final day as Miss Black Michigan a memorable one and to come out to wish her well as she pursues the national Miss Black USA crown on Saturday, August 9th in Washington DC.
************
Support Ashley Jones – 2015 Miss Black Michigan 
Send a Congratulatory Ad**
CLICK HERE to get download the Congratulatory Ad FORM for Ashley
Ashley would love to read your congratulatory message or ad in the concert program!
Acknowledge her accomplishments as Miss Black Michigan or
Cheer her on as she pursues the National Miss Black USA title on August 9th
Inquiries and Ad Info: Call 517-528-0471 or 517-881-4017 or email info@BMRWpromotions.com
*****************
Click here to get your concert tickets for An Evening of Smooth Jazz or call 517-372-7246