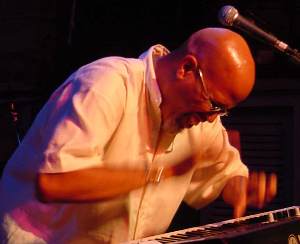 No kidding.  Bob Baldwin in concert in Michigan!
The best news about the smooth jazz genre or broader blend of jazz that so many adults enjoy today may be in artists like Bob Baldwin. 
"We have another first for An Evening of Smooth Jazz," explained BMRW Promotions spokesperson Charlie Wilson. "On Friday, July 29th, Bob Baldwin will be the first keyboardist to headline our summer music series. One of our first bands, The Miller Group from North Carolina will be back as well as Lansing local band 496 West who first debuted in 2008."
Highly regarded as one of the top pianists in the country, it has already been two banner years for New York native Bob Baldwin. Baldwin who currently resides in Georgia is internationally recognized as a recording artist, producer, songwriter, arranger and radio host.  He is often described as a child prodigy who learned to play jazz piano and upright bass from his father –Bob Baldwin, Sr. (whose own career included work with Ella Fitzgerald's main bassist Keter Betts and Art Davis who performed for years with John Coltrane).
The pages of Baldwin's history include "classically tempered chops" and years of jazz and gospel experience.  There is his stint as the keyboardist on Tom Brown's legendary "Funkin' for Jamaica" in 1986 and also work on one of the first recorded Gospel-Jazz albums in 1987 ("No Longer I").  Winning a Sony Innovator Award with the legendary Roberta Flack as the finalist judge:  a Grammy nomination; SESAC Music awards; recording a tribute to the World Trade Center victims in 2001 ("The American Spirit") and humanitarian efforts for the Special Olympics, Haiti, the Red Cross and other charities.  Baldwin was nominated in Canada for the 2010 International Instrumentalist of the Year.  After receiving blessings from the estate of Michael Jackson in February 2010, Baldwin recorded and released a music tribute simply titled "Never Can Say Goodbye" and just days ago, his 15th CD "NewUrbanJazz.com 2 – Re-Vibe" hit the airways.  The latest project is a tribute to two of the most popular and influential jazz saxophonists –Grover Washington and George Howard.
"Most recently, it's been about creating music for our incredible music audience, which has a double benefit", said Baldwin.  "At this point in my career, it's really about taking my gifts and using them to help others, feed people, and develop people's careers," he said.
Without making apologies or excuses for radio stations that have discontinued their smooth jazz formats, positive aspects have erupted for the art form. Despite having fewer than a dozen commercial Smooth Jazz stations on the airways in the US and Canada, the smooth jazz format continues to pick up fans in numbers and age—on both land and at sea.
A number of Internet non-commercial stations (public, college and community radio) now offer smooth jazz formats.  More are on the way.  Bob Baldwin is the host of a syndicated radio program ("New Urban Jazz Lounge") that is broadcast in 29 states that are mainly non-commercial stations.
Record attendance is being reported for concert and festival events that provide access to smooth jazz like the Seabreeze Jazz Festival (California), River Raisin (Monroe, MI) and the Oldtown Jazz Festival (Lansing, MI).  An annual jazz event that began six years ago in Miami Gardens, "has grown and taken a life of its own, drawing people from all over the world to visit" according to the Mayor Shirley Gibson.
The Director for Smooth Jazz Cruises, Michael Lazafoff, says their 2011 cruises sold out nine months before sailing and at seven months until the 2012 sailing, the cruise is almost 90% sold. During a three-week period in 2011, The Jazz Cruise and The Smooth Jazz Cruise entertained nearly 6,000 passengers from 38 states and over 20 foreign countries.  Over 125 jazz musicians and vocalists were showcased.
Locally, some public schools are finding it beneficial to introduce students to artists or to stimulate interest in the smooth jazz music genre as a fundraiser.
All of this is good news for BMRW Promotions says Wilson. "BMRW's goal is to get live music in the community and to get instrumentalists and vocalists who do not normally come to Mid Michigan in front of audiences and listeners in the area."
For now, if there is an infinity for smooth jazz, it looks like it is working.
You can catch some great smooth jazz in mid-Michigan on Friday night, July 29 at 7:30 pm when An Evening of Smooth Jazz returns with International Smooth Jazz Keyboardist Bob Baldwin, The Miller Group and 496 West. The event is brought to by BMRW Promotions.
"Art does imitate life and vice versa, so live your life to the fullest… today," say Bob Baldwin.
2011 An Evening of Smooth Jazz Friday, July 29, 2011 at 7:30 PM
Margaret Livensparger Theater – Holt HS Performing Arts Complex
5885 W. Holt Road in Holt, Michigan 48842
Website: www.bmrwpromotions.com
Listen to Baldwin (Tribute to MJ – Never Can Say Good Bye)