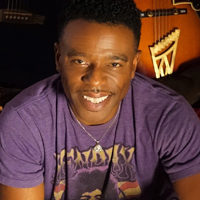 GRAMMY® WINNER NORMAN BROWN ANNOUNCED TO PERFORM IN MID MICHIGAN
An Evening of Smooth Jazz 2018 is still months away, but it's already shaping up to be one for the books. Since 2005, BMRW Promotions presents the annual summer music in the community festival on the last Friday and in 2018, the date is set for Friday July 27th at Holt High School Margaret Livensparger Theater.
THE headliner for next year's summer event is one of the most successful smooth jazz and instrumental R&B guitarists and someone whom George Benson refers to as "greatest guitarists around today" — Grammy® Winning Guitar Maestro/Singer Norman Brown.
Hailing from a musical family, Norman Brown was born in Shreveport, LA, and raised in Kansas City. Music was always playing in Brown's house. His brother played guitar and as a youngster, Brown would sneak into his room to get his hands on his brother's acoustic six string. His early music influencers include Jimi Hendrix, the Isley Brothers and then one of his father's favorite guitarists, Wes Montgomery.
A graduate of the Musician's Institute in North Hollywood, where Brown would go on to teach, the guitarist landed his first deal on Mojazz in 1992 where he recorded the albums Just Between Us, the Gold selling After The Storm and Better Days. Having recoded a string of successful albums including 1999's Celebration (in which he teamed up with Paul Brown), 2002's Just Chillin' (featuring vocalists Michael McDonald, Miki Howard and Chanté Moore) scored a Grammy® win. The same year, Brown joined forces with saxophonist Kirk Whalum and trumpeter Rick Braun for BWB's debut recording Groovin'. They also recorded the CDs Human Nature (2013) and BWB (2016). Brown continued a trail of critically heralded albums including West Coast Coolin' (2004) Stay With Me (2007), Sending My Love (2010) and 24/7 with saxophonist Gerald Albright. Brown has sold over one million albums and continues to delight his devoted fan base.
He states, "My desire is for my fans to gain the spirit of joy, comfort, understanding and any hint of direction."