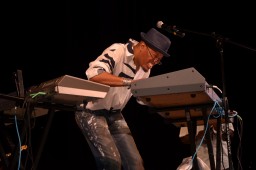 July 29th was definitely an extraordinary night for An Evening of Smooth Jazz.  The summer concert series featured great moments, great music, a great venue and a fine balance of musicianship by Bob Baldwin, Baldwin's band, The Miller Group and 496 West.
When the curtains opened, 496 West guided the audience up the scale with the band's rendition of "It's a Man's World".  A stirring duet by Zakea Williams and Daryl Hibert ("The Closer I Get to You") and the energy from the horn trifecta  was impressively accentuated by Ralph T, John Gerwitz and Reggie Page.
Breaking loose with an original composition ("One More Time")  written by the group's bassist Thurman Woods, The Miller Group continued the journey.  Leading the audience in a sing along of  an Earth, Wind and Fire classic and then paused  to surprise a returning fan (Regina Riddle) with an on-stage instrumental serenade of down home blues.  Saxman, Brian Miller fancied a little footwork, a few high fives from Kevin Wilson and reminded the audience that he could move with the best.
After a brief intermission, the  audience refueled with a magical mix of Soul, Funk and Smooth Jazz as Bob Baldwin took the stage.   Without leaving the building, the keys floated to Brazil and other far away places.  Complimented by Ron Jenkins on bass, Poogie Bell on drums and Shelby Brown on sax, Baldwin kept the crowd swaying to some familiar notes and introduced some new favorites. From "Brazil Chill", "Get Over It", "People Make the World Go Round", "Third Wind" and "Summer Breeze"  the notes arrived at its final destination –a blend of new urban jazz.
Concert attendees traveled from Nevada, Florida, Georgia, North Carolina as well as Detroit, Jackson, Flint and Grand Rapids.
An Evening of Smooth Jazz 2011 sponsors include Dean Trailways with support from Capital Cadillac and LAFCU.   The concert series is presented by BMRW Promotions.
In summary:  What a way to end the month of July with live smooth Jazz– Incredible and smooth!!
Here are just a few of the comments we picked up on Facebook, e-mail and notes…
"I really enjoyed the show. Can't wait for next year.  
"Bob Baldwin was Rocking as well!!"
"Great Concert Friday! I thoroughly enjoyed the show! Can't wait for the next one! Really loved your rendition of "the Ghetto" and loved the Miller Group! Thanks so much! "
"Very special thank you to BMRW Promotions for a wonderful concert.  Looking forward to next year's concert"
Don't forget to take a look at the gallery.   Click phote to expand it (courtesy of Michael Jennings Photography.