Excited to Announce:
Christopher 'Skip' Wilson joins Sony United as Senior Manager of Music, Talent, Content & Strategy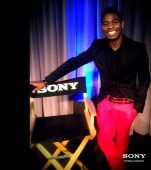 Sony United is pleased to announce that Skip Wilson has joined the team as Senior Manager of Content & Strategy. In his new role, Wilson will lead integrated efforts to bridge gaps between Sony Pictures, Sony Television, Sony Music, & Sony Electronics. A prime example of success in this realm of our business has been James Bond Skyfall where Sony Pictures produced the film, Sony Music provided the award-winning score and title track from Adele, and Sony Electronics extended the campaign into our retail shopfronts.
As Senior Manager, Wilson's responsibilities will also include identifying and negotiating strategic partnerships similar to our current partnerships with Taylor Swift, Jimmy Kimmel Live, and the San Francisco 49ers. Wilson's team will also field direct talent and media licensing requests from each of our product groups at SEL.
Wilson brings a wealth of music, entertainment, agency, product marketing, and leadership experience having served as Supervisor of Experiential Marketing with MTV Networks at CMT in Nashville, as a Brand Planner with The Richards Group Branding Agency in Dallas, and as an Associate with Ralph Lauren in Luxury Fragrances in New York. Wilson was educated at Vanderbilt University where he majored in Music and Communications and holds an MBA from Tulane University where he concentrated in Consumer Behavior and International Business.
Wilson brings a colorful energy, strong strategic vision, as well as a creative and fresh perspective that has proven a strong asset to us here at Sony Electronics.
"I am most excited about the challenges ahead. This opportunity with Sony United aligns perfectly with my experience, interests, and competencies. We definitely have an uphill battle and there is plenty of room to grow, but I think we'll be able to accomplish some great things at Sony Electronics by leveraging our strengths across our sister companies. We now have the opportunity to redefine who we are as a brand and to truly understand the role we play in our consumer's lives. And that is an absolutely awesome, exciting place to be in for any brand" – Skip Wilson
Wilson will remain in San Diego and will report directly to the SVP of Sony United who is based in Nashville TN.