496 West will celebrate Jazz Appreciation Month (JAM) with a special Smooth Jazz Performance on Friday, April 15, 2011 at 621 (621 E. Michigan Avenue) from 9 pm to 11 pm.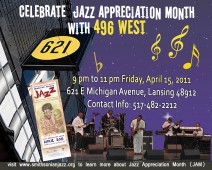 This year is a special year for JAM, as it marks the 10th anniversary .  Since 2001, the celebrations have expanded to all 50 states and 40 other countries. The Smithsonian Institution's National Museum of American History launched JAM to with the intent of helping to keep the art form alive by encouraging people of all ages —to study the music, attend concerts, listen to jazz on radio and recordings, read books about jazz and support institutional jazz programs. The idea is to encourage musicians, concert halls, schools, colleges, museums, libraries, and public broadcasters to offer special programs on jazz every April.
The 2011 JAM theme is "Women in Jazz: Transforming a Nation." The Smithsonian website features the story of the International Sweethearts of Rhythm, and their beginnings at Piney Woods School in Mississippi, "the school that music built." The Sweethearts are recognized as the nation's first integrated female band.  Another female jazz pioneer, Mary Lou Williams, is featured on the 2011 JAM poster.
For more information on Jazz Appreciation Month visit
http://www.smithsonianjazz.org/