When multiple strings are played together on guitar or bass they are called chords.  When multiple guitarists and bassists play together at An Evening of Smooth Jazz, we call this smokin'.
Here's a peek at the July lineup for the strings.   Remember, these are only a portion of the the artists who will be performing at An Evening of Smooth Jazz.   More artists and entertainment is on tap….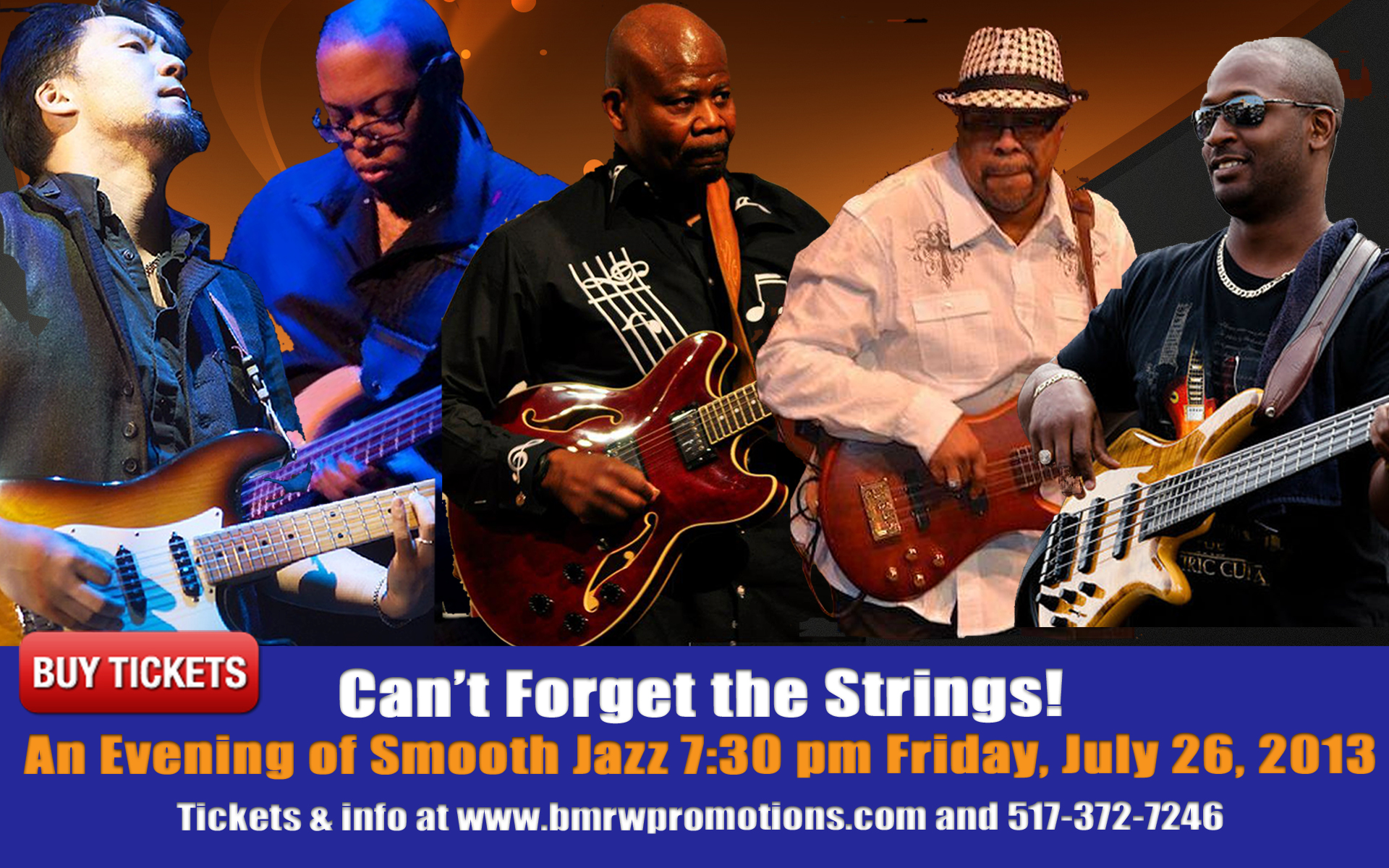 Pictured:   Kayta Matsuno,  Tim Bailey,   Charlie Wilson,  Orrick Ewing  and  'AP'  Pulliam
Signature Saxophonist Jackiem Joyner will Headline An Evening of Smooth Jazz
Jackiem Joyner is an internationally recognized saxophonist, Flutist, Composer, Producer, Yamaha Performing Artist.  He comes to mid-Michigan with #1 songs on the Billboard chart, multiple nominations for song of the year by "American Smooth Jazz Awards, and a Debut Artist of the Year award by industry publication Smooth Jazz News.
Band Members joining Jackiem on the strings include…
Kayta Matsuno (Guitar)   – Pronounced Kay-Ta.  Kayta is a virtuoso of the guitar and others say "you have to hear him to believe it".  The Berkley College of Music graduate resides in the Los Angeles area and certainly his playing different genres of music (Gospel, R&B, country, jazz, and rock) have helped his career as a session guitarist. His list of credits includes Marlena Shaw, Steve Porcaro, Virgil Donatti, Tony Macalpine, Natalie Cole, David Foster, Baby Face, Mark Levang, Mikal Blue, Jun Abe, Colby O' donis, Rudy Cardenas, Angela Via, NOVO Philharmonic Orchestra and Jackiem Joyner. 
Tim Bailey (Bass) – The Kansas native and Los Angeles Music Academy bass grad goes by "Twizz" or "t.bailey".   He recalls falling in love with music around age 3, beating pots and pans, listening to jazz and gospel. By age 11 he was writing lyrics, and by 13, he was crafting tracks when not practicing violin or viola.  He has accompanied notable artists like Denice Williams, Chante Moore, Kenny Latimore, Natalie Cole,  Brian Kennedy, Rachelle Ferrell and has worked with Chris Brown, El DeBarge, Tyrese Gibson, J*Davey, Jamie Foxx, Lalah Hathaway, Gary Taylor and Billy Davis and Marilyn McCoo of 5th Dimension and Lalah Hathaway.  He's also accompanied gospel legends like Richard Smallwood, Kim Burrell, and Dr. Bobby Jones and has placed songs on many major and independent albums. Among those, rapper Mims    "Music Is My Savior", Rahsaan Patterson's "Wines and Spirits", and the Tamela Mann (of Tyler Perry's "Meet The Browns" fame) project entitled, "The Master Plan" which spent over 50 weeks in the top 10 of Billboard's Gospel charts.   He toured with the award winning play "U Don't Know Me – The Musical" in 2006.   Timothy  has served as Music Director/Minister of Music at Community Bible Church in Pasadena, CA.
  http://youtu.be/NMfkn-v6qto
Playing the strings for 496 West are (more info coming)
Arnold 'AP' Pulliam (Bass)
About the Music
It's difficult to put this music into one specific category because the truth is… there aren't just simple categories of music anymore. But no matter what you call it, you're sure to love it!
Location/How to get Tickets
An Evening of Smooth Jazz will be held at Holt High School in the acoustically designed Margaret Livensparger Theater.
For more information or to get tickets please visit bmrwpromotions.com, like us on Facebook or call 517-372-7246. Tickets are also available locally at Budget Printing Center on Trowbridge Road in East Lansing.
Individual Seats – $35  
VIP Package – $50 VIP
Group Rates & Fundraiser Options Available
What to Expect
Expect the 2013 edition of An Evening of Smooth Jazz will certainly be a night to remember!
See the bands !
http://www.youtube.com/watch?v=PoKRIcPpPhc http://www.youtube.com/watch?feature=player_detailpage&v=d-nyz96Z_ko
http://www.youtube.com/watch?feature=player_embedded&v=CYklA1fj-1Q
http://www.youtube.com/watch?feature=player_embedded&v=d7ZMIBXvnAM